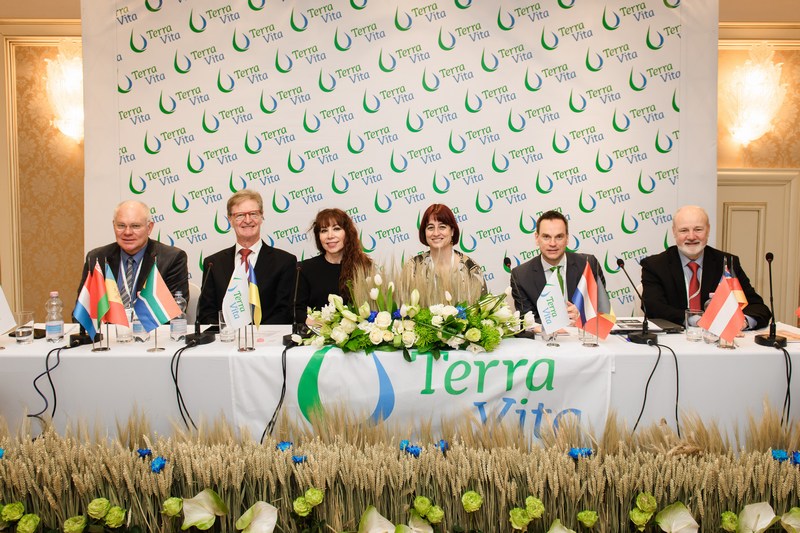 TerraVita – 15 years of success!
07.12.2016
One of the leaders of the domestic agricultural market the company "TerraVita" celebrates its anniversary – 15 years of success!
It has become a tradition for the company to draw the balance of its annual activity through the international conference. This year "TerraVita" gathered its domestic and overseas business partners in luxurious FAIRMONT GRAND HOTEL KYIV. So an elegant atmosphere of the hotel has added even greater triumph to the evening.
– Today our meeting is special – we celebrate 15 years of activity. We have overcome a difficult path, during 15 years we had victories and difficulties, but thanks to the professionals – our team and all of you – our business is developing successfully – refered to colleagues General Director of the company Karina Markarova. – We could not achieve such a results without you. I hope that our cooperation will continue to be as effective and mutually beneficial as now.
Of course, without highly skilled professionals it would be impossible to achieve success in a complicated business as agriculture. So Mrs. Karina at the beginning of the conference traditionally presented the team – from the most experienced workers, who are from the very beginning in the company, to newcomers who joined the team just a few weeks ago. She also mentioned the most important stages of "TerraVita" development, the main of which is the actual beginning of activity in Ukraine as the representative office TerraVita. Today "TerraVita" is confidently included in top ten suppliers of products for farmers in Ukraine, sells crop protection products, seeds, various types of fertilizers and growth regulators, has representatives in 12 regions of Ukraine. Since 2015 "TerraVita" also has registerations in the CIS countries, including Moldova, Belarus, Kazakhstan and Georgia. The level of import of products from 2001 to 2016 increased from $ 3 million to 31 million US dollars, including the CIS countries.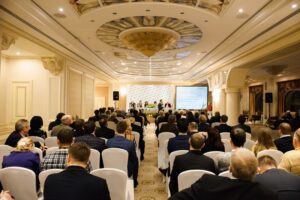 The company still has ambitious plans to be a major player in the crop protection industry – through the development of new formulations, partnerships with well-known manufacturers and network of professional distributors. During the conference the participants were presented novelties of crop protection products and fertilizers which are expected in the new season of "TerraVita". In particular, commercial director Maxim Markarov told about the advantages of complex micronutrients for foliar application of plants. The representative of the Belarus company "Agrosemprodukt" Vladimir Kuzmich acquainted with the unique properties of liquid complex fertilizer for foliar application of plants Solu B, which is used in case of lack of boron.
The foreign partners of the company "TerraVita" presented to the participants of the conference their achievements and new proposals for market. Thus, the representative of India's largest manufacturer of insecticides "Garda Chemicals" Ltd George Neumann said that his company is the second in the world market in sales of chlorpyriphos and dicamba and the third – in the sale of cypermethrin. Olga Blanco, representative of the Spanish company "SAS", which produces fertilizers under the brand CODA, introduced new products.
Big plans for further presence in Ukraine has another partner of "TerraVita" – German company STEFES that in the past belonged to Bayer, specializes in the manufacture of plant protection products, microfertilizers, bio-stimulants. Its representative Karsten Fischer said that next year STEFES GmbH and Fader Alliance Ltd. will join forces to purchase production and formulations plant in Germany. This means that we should expect new joint effective solutions.
Obviously, the interest of agricultural producers to the unique growth bioregulator Kelpak that over 35 years produces the company Kelp Products will not decrease. In fact, according to the representative of the company Adriaan Lourens, new trials showed that Kelpak increased crops yield.
The rewarding the best distributors of "TerraVita" completed the conference. Awarded were the companies with the largest – more than $ 2 million – sales – SPE firm "Eridon", Trading House "Nasinnya", "Ahrozahyst Donbass" LLC and others.
Hirlyuk Nikita
Hirlyuk Nikita, commercial director of "Ahrozahyst Donbass LLC"
We cooperate with "TerraVita" almost from its foundation. We wish them only to remain such professionals as they were during this time. Big thanks to them for their cooperation. The face of any company – its employees. I can say with confidence that "TerraVita" – is a company with a soul. Perhaps because it's a family business and a real family is held on such principles. We do not only make common business, but are friends as well. So we cooperate very easily and simply.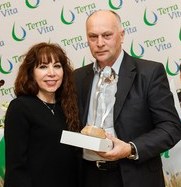 Karina Markarova,
Anatoliy Onyshchuk
Anatoliy Onyshchuk, director of seed department JSC "Company" Rise"
Knowing the company "TerraVita" for seven years, I was very impressed that they are constantly in search, they rely on quality products. In addition the company is very accessible to distributors. They are very easy to work with, this allows to meet when you need to resolve the issue quickly. We sell the company's products throughout Ukraine for years and over the years we did not have any claims on their products. For us it is important that the company always offers new products. Today at the conference I'm curious to hear about innovations in the company's portfolio. For example, I'm interested in announced cooperation between companies STEFES and Fader, negotiation of companies "TerraVita" and "Raiffeisen Ware Austria AG" because we sell their products, so we will wait for the results of the negotiations in order to know which products will appear on the market.
Boris Tsybulnik
Boris Tsybulnik, director of "Agralp Ukraine" Ltd.
I've been personally know Karina Markarova for a long time – we started working together a dozen years ago. I'm amazed by tenacity, ambitions, team spirit of the company that is united by one idea – to use every opportunity to be in its niche on the market. Our sales are stable from year to year and customers who choose products from "TerraVita" are always satisfied. After all, they have a quality product for a reasonable price. "TerraVita" is growing from year to year. But I would like to wish them to avoid the problems that are inherent in large companies, – bureaucratic decision-making. So I want the company to continue growing, but to be always mobile and quickly make decisions.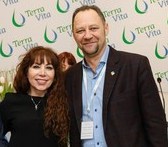 Karina Markarova,
Oleksiy Struchkov
Oleksiy Struchkov, head of crop protection department, SPE firm "Eridon"
We are connected with "TerraVita" not only by very profitable joint business projects, but also by warm relations. The company differs from others by stability, but it is not static. This is the team of professionals who always produces interesting solutions for the market, including postpatent. We appreciate the fact that these products are manufactured in Europe and undergo strict laboratory control, so today we have no complaints from our customers about the quality of these products. This is a company you can trust, who always fulfills its obligations and has always supported our colleagues in the fields with its quality products. Despite the fact that we work in harsh conditions of agribusiness we always find solutions to the difficult situations if they arise.
Georgiy Tartasyuk
Georgiy Tartasyuk, director of "Trading house "Nasinnya"
The company "TerraVita" – is 15 years of success! But the success – is a tip of the iceberg, based on hard work connected with the registration of products, finding companies that will deliver the goods, recruitment and so on. In many ways, the success of the company "Terravita" came through the tireless energy of its Director Karina Markarova. We are the distributor for all 15 years, now have sales of over 3 million dollars. We plan to grow and develop together with "TerraVita". It is really interesting company. And it offers interesting products that are in demand in the market. This company is predictable, reliable, which remains committed to its obligations, terms of supply of products, which is very important in business. So we not only work, but earn with "TerraVita" and are satisfied with our cooperation.